Jul 1, 2021 06:43 AM Central
Kerry Todd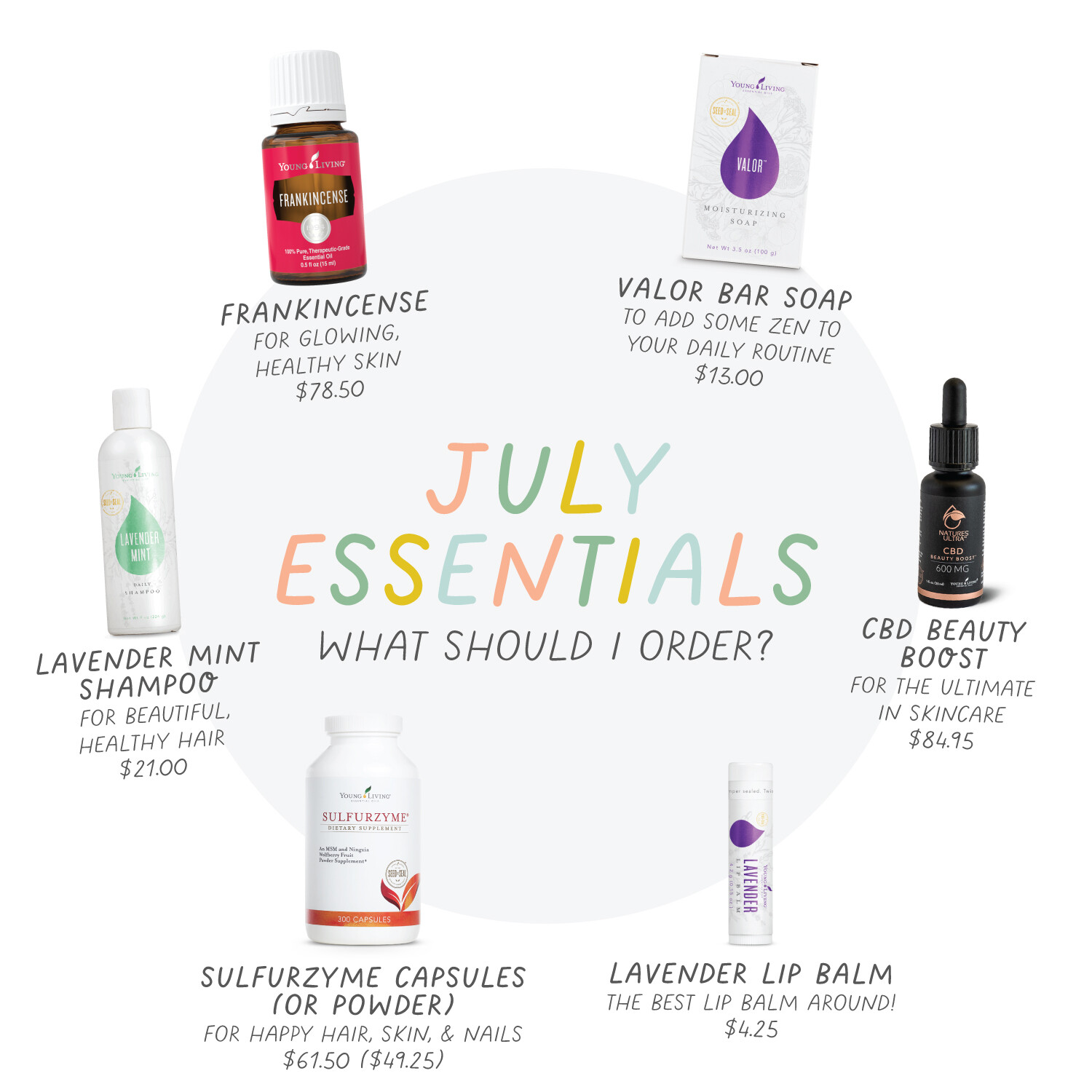 Lavender Mint Shampoo Healthy hair depends a lot on what and how we cleanse it! The Lavender Mint Daily Shampoo is minty and invigorating and perfect for all hair types. The scent promotes feelings of calm and clarity, and nourishing ingredients promote beautiful, healthy hair!
Frankincense essential oil Frankincense essential oil has long been known for its incredible grounding and healing properties and carries huge historical and spiritual significance. Frankincense has been used in religious rituals for over 3,000 years. It has been known to enhance immunological function, beautify skin, and increase spiritual awareness. This oil is a must-have for every home because of its versatility!
Learn more about Frankincense essential oil blend in the July Oil Spotlight!
Valor Bar Soap Love your skin and elevate the everyday with Valor Bar Soap! Ground yourself with nature and the woodsy smell of Valor while you get ready for the day ahead or wind down at the end of the day. The nourishing formula cleanses without drying out the skin, and the scent is incredible!
CBD Beauty Boost Your skin is your largest organ, and the state of your skin can tell you a lot about your body's needs. Your skin is exposed to everything the day brings - heat, cold, sun, wind, environmental toxins, household toxins, and more. So we need to do everything we can to show our skin (and our bodies!) some TLC. CBD Beauty Boost contains a combination of pure, potent CBD, tamanu oil, grapeseed oil, and rose essential oil for a truly luxurious experience!
For more, check out the July Ditch & Switch Resource!
Sulfurzyme Capsules (or Powder) If you have skin, hair, nails, or joints (and we hope you do), you are likely not getting enough of this compound. Weak and brittle nails, hair that doesn't grow or isn't healthy, joints that are painful, and skin issues can all be giant billboard signs telling you that you need more nutrition in this area. Skin that is ultra sensitive to the topical use of oils can be another telltale sign. This one supplement can do so much to help you benefit from everything else you are doing with your oils to increase your health.
To learn more, check out the July Supplement Spotlight!
Lavender Lip Balm A daily must-have! This is our favorite lip balm, and it doubles as a carrier stick when in a pinch! Apply to lips, cheeks, noses, any part of the skin that needs a little TLC. We like to keep one in our bag, one by the bed and one in the bathroom! IKYK!